Wyandotte County Parks and Recreation are Good for Residents, Visitors, and the Economy
Wyandotte County is the top tourism destination in Kansas, averaging 10 million visitors per year. While many of these folks travel to take in a major race or event at the Kansas Speedway or try their luck at the Hollywood Casino, many also come to boat on Wyandotte County Lake or explore a portion of The Lewis and Clark National Historic Trail. Parks and recreation not only enhance the health of individuals by getting them outside and moving, they create and foster attractive, vibrant, and resilient communities like ours in Wyandotte County.
Recreation amenities are not just for fun. As the tourism numbers show, they are significant economic drivers. A community's quality of life and quality of place also work to attract and retain workers. A 2020 study by the Knight Foundation found that in the communities they serve, quality of life accounts for about a third of the moves to a metro area and a third of the resident's decision to stay. It found that people who choose to live in an area because of quality of life express significantly stronger sentiments of attachment than those who live there for a different reason, such as family or jobs.
Today, people expect better working conditions, better living environments, and communities that meet their lifestyle needs. In response, businesses are searching for locations that meet their needs and provide the quality of life their employees want. Wyandotte County checks those boxes.
Wyandotte County is known for its authentic Midwest charm, the Taco Trail, fun on the lake, soccer, and barbeque. Residents and visitors alike have lots of great options to enjoy the great outdoors. There are many adult and youth sports leagues for every season of the year.
Wyandotte County Recreation Amenities
Wyandotte County Lake and Park is a rural retreat within city limits. This tranquil 1,500-acre wooded gem has hiking, biking, and horse trails, an off-leash dog area, an archery range, a large playground, and picnic shelters to reserve. Check out the map.
The F. L. Schlagle Library and Environmental Learning Center, one of only two public library environmental learning centers in the United States, is located on the west side of the park.
The beautiful 400-acre lake has wide open space for boating, fishing, paddleboarding, kayaking, and more. There's a marina, boat ramp, boat rentals, kids' fishing pond, beach shelter, and concessions to add to the whole family's enjoyment.
Bonner Springs Aquatic Park is a true destination serving up family fun and adventure all summer long. The zero-entry outdoor pool has in-water shade structures and features six lap lanes, two diving boards, a climbing wall, four slides, a water playground and spray area, a lily pad walk and floating "animals," and a concession stand. Swim lessons are also available.
Kaw Point Park is a 10-acre wooded National Park along the shores of the confluence of the Missouri River and the Kansas (Kaw) River between Kansas City, Kansas, and Kansas City, Missouri.
Although it is located in the center of the Kansas City metro, it has retained a natural state with serene wooded trails, wildflowers, and wildlife. Features include a memorial to all Native tribes of the area and a small amphitheater with limestone seating blocks. Visitors linger to enjoy the beautiful waterfront scenery and dramatic views of downtown Kansas City, Missouri. A portion of The Lewis and Clark National Historic Trail allows you to step back in history.
Wyandotte County and Kansas City, Kansas, have almost three dozen neighborhood parks of varying sizes and features. Options include 24-acre Jersey Creek Park with biking trails, bridges, walkways, a basketball court, and a playground and 7-acre Westheight Park with tennis courts, picnic tables, grills, a shelter, and a playground.
There are many Community Centers throughout Wyandotte County that are available for a wide variety of activities from crafts to sports leagues to fitness classes: Armourdale Community Center, Beatrice L. Lee Community Center, Bethany Park, Eisenhower Park, and Joe E. Amayo Argentine Community Center (YMCA). Various features include gyms, outdoor sports fields and courts, meeting rooms, and kitchens.
Sunflower Hills is one of the most challenging and affordable courses in the Kansas City area. This 18-hole championship course designed by renowned architect Roger Packard features five sets of tees, expansive rolling greens, zoysia fairways, numerous bunkers, and water hazards.
Painted Hills Golf Club's leagues and tournaments are open to both members and public players. The 18-hole public course features bentgrass greens that meet USGA specs and fairways that provide a dense stand of turf accommodating for carts. Twenty-four fairway and greenside bunkers add challenging appeal. Becoming a GreatLIFE Classic member opens access to the Painted Hills course and fitness center, as well as unlimited access to all the GreatLIFE fitness centers in KC.
Dub's Dread Golf Course, known for its superb design, premier playing conditions, and outstanding service, is a local favorite and a must-play for area visitors. Originally built as the longest golf course in the world at 8,101 yards, this one-of-a-kind, old-style layout features fairways lined with majestic trees. Challenges await with winding doglegs and large, undulating greens.
The popularity of disc golf has increased dramatically in recent years, and Wyandotte County has several excellent courses available for novices to tournament seekers.
Wyandotte County Park Disc Golf Course, a Professional Disc Golf Association member, features 18 holes with multiple pins set among rolling hills and prairie. There are three nice tunnel shots, a water hazard, and new benches.
Cedar Ridge Disc Golf Course, located in Bonner Hills North Park, features 18 holes in a moderately hilly and heavily wooded landscape. While it is a public course, it can be rented for tournaments.
Edwardsville City Park is a 9-hole course that has the option to be played twice for 18 holes. Some holes require a drive across the creek or through the trees.
---
Let Wyandotte County Economic Development Council (WYEDC) help you and your business harness "The Power of the Dotte." Our mission is to promote and strengthen Wyandotte County's economy through innovative approaches to programs, partnerships, incentives, and leadership in industrial, residential, office, and retail markets. Contact us today and follow us on LinkedIn and Facebook!
More Topics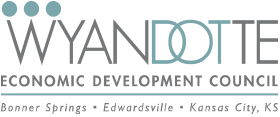 Employers of all sizes have an alternative to layoffs: the Shared Work Program from the Kansas Department of Labor. Access the program here.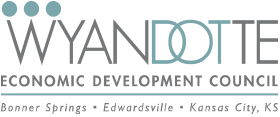 At the beginning of 2021, the Kansas Healthy Food Initiative (KHFI) was headed into its fourth year. The program was really starting to get its feet under it. The five partner organizations - Kansas State University Research and Extension (K-State), IFF, NetWork Kansas, The Food Trust, and the Kansas Health...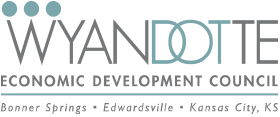 Recently, Elon Musk announced plans for the Tesla Bot, a humanoid robot that stands 5 feet, 8 inches tall. Musk said the robot "probably won't work." I hope he is wrong. Many people have an adverse reaction to discussions of automation and artificial intelligence. While I understand those fears,...